NGOs & Social Media:
a digital microphone for NGOs' message

Internet usage
Worldwide more than 4 billion people use the Internet. Almost half of them are active Facebook users. Can you imagine how many doors using the internet opens for you? You can literally reach the whole word through internet, and more specific, social media.

Companies in a social media world
This creates an important opportunity for companies, with Facebook being the most popular platform for businesses. There are 60.000.000 Facebook pages, with 4.000.000 active advertisers.
We don't need to tell you that social media is unmissable for NGO's. But why is it so important for NGOs to use social media? And what can they gain from it?
Social media is an opportunity to tell your story and engage with your supporters. As an NGO you have to figure out what your message is, how you want to tell it, and to whom. Have you ever tried thinking why is there a talk about integrating Social Media in NGO's overall Marketing Strategy these days? Here's why it is:
its free,
it's more impactful,
you can connect with the ideal target group,
empower the brand image for your organisation,
collaborate and connect with donors and funders more effectively,
get your organisation listed and found online (SEO facilitation),
witness effective fundraising for your work and initiatives,
help everyone understands the benefits of your work and impact you are bringing in the beneficiaries' lives,
wide audience base,
use photos, videos and other strong tools to tell your stories.
How Global NGOs Use Social Media Source

Sourse: https://www.smartinsights.com/
Target audience
It is essential to know the audience to which you want to tell your story. Youth needs to be targeted differently than adults or elderly people. As you can see in the table below, for example, the usage of Instagram is very high for the age group 18-29, but very low in the age group 65+. Understanding where your target audience is most active and what they actually want to read means gaining followers.
When writing for an organization, it can be helpful to link persons to your (potential) supporter and donors. This makes empathizing with your target audience easier for you. Think of the values they find important, their interests, their education, why they support your NGO, how to best communicate with them and their most used on- and offline media usage.
Most social media platforms give insight into your profile's statistics, so you can always see if you are actually reaching your target audience, or if you might need to adjust a bit.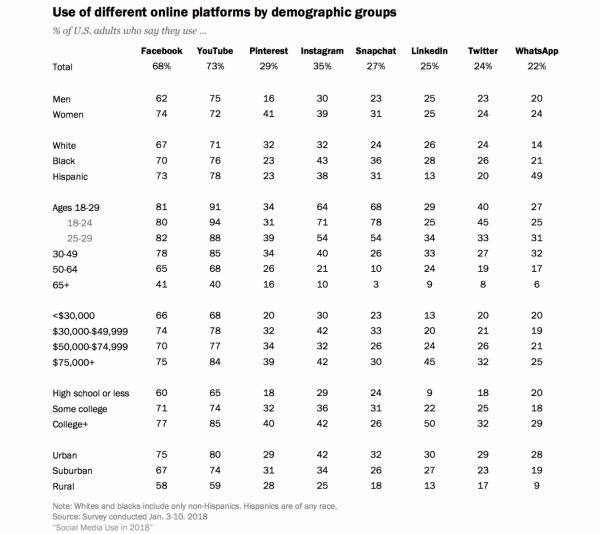 Sourse: http://www.pewinternet.org/2018/03/01/social-media-use-in-2018/
Social media goals
It is important
to set goals
for the social media accounts that are in line with the organization's mission and vision. What will you use them for? Also keep in mind which social media platform you want to use. To give you an idea of what social media goals are, we listed a few examples.
Brand building and brand awareness.
Brand awareness is the level of consumer consciousness of a company. It measures a potential customer's ability to not only recognize a brand image, but to also associate it with a certain company's product or service. Think about it. Do you ask for a cola or a coke in a restaurant? With the vast amount of NGO's for consumers to choose from, it's crucial to have a differentiated message to distinguish your organization from its competitors.
Community engagement and education.
An NGO could educate, by telling facts, but also activate. By asking your community to do something (shopping only local products, sign a petition, share a post) you engage them in your work, and make them part of the process. This makes your audience feel like they are actually helping you reaching the shared goal. And they do! Also, get in contact with your followers. Like their posts, react to their comments and engage in discussions about your posts.
Fundraising.
Fundraising could seem like a very obvious goal for your NGO social media account. But it turns out that this is not an effective way of getting people to financially support your organization. Why? Social media users very rarely click away from their news feed – let alone an outside website asking them for their financial support. There are of course exceptions, like the 'ALS ice bucket challenge'. Connecting a challenge to asking for money motivates people to donate.
Sourse: https://www.flickr.com/photos/chrizzla72/
Type of content
Lastly, know what you want to post. This is partly decided by determining your social media goals. But an NGO also has to think about what
type of content
is useful for spreading their message. Do you need a lot of visuals like pictures and videos? Do you want to write longer, in depth texts? Will your content be in the form of a call to action or mainly in the form of entertainment?
Sourse: Oxfam Novib Instagram
If you implement these tips, your chance of success is big! But remember, Rome wasn't built in one day, so give your success some time.
In the meantime, keep inspiring, and keep posting, as social media is a wonderful tool!